Today, Ashford School students got to ask their questions to an astronaut floating about 250 miles overhead on the International Space Station.

Astronaut Serena M. Auñón-Chancellor

, flight surgeon on Mission 56/57, answered 16 student questions that ranged from "Do you wear sunscreen into space?" to "What is the hardest thing about having 0 gravity?" to "How many flips can you do?"

Students used a special Amateur Radio to make a direct contact. The

National Association for Amateur Radio (AARL

) helped provide and set up the equipment. Joe Carcia, Kris Bickell, Ally Riedel, David Isgur, and Michelle Patnode all came for the big day to help facilitate the contact.

In addition to our ARRL radio representatives, several members of the

Eastern Connecticut Amateur Radio Association (ECASA)

also came to lead the contact. Bernard served as the main contact, and Ryan and Joe were also on hand leading the contact.

They set up a giant antenna system outside so that the signal would reach. They also projected ISS tracking software behind the radio for students to see:

Our whole school gathered in the cafeteria, and students who had been selected to ask a question gathered by the stage, each waiting their turn to approach. We all listened with bated breath as Bernard began the contact: "This is KZ1, ISS, this is KZ1, do you copy?"

When we first heard Astronaut Serena M. Auñón-Chancellor, everyone broke out into smiles and gave the thumbs up signal. Despite our excitement, everyone stayed absolutely quiet so we could hear her answer our questions!

You can watch all of the students ask their questions below (The questions begin at the 42 minute mark):
Powered by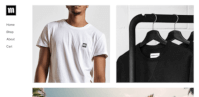 Create your own unique website with customizable templates.